Your Gateway to Japan
It's not easy to break into Japan's highly complex and competitive market. As a high-technology marketing company, TK can show you the way. Our 60 years' experience in importing Western technology together with detailed knowledge of the Japanese market give you the vital support necessary to make your product a success. We have experience in a wide range of high-tech fields, whether hardware, software, systems integration or cutting-edge emerging technologies. We represent advanced computer networks, semiconductors, industrial products, surveillance systems, automated mailing systems and much more.
Our unique combination of market knowledge and technological know・how makes TK your best partner for Japan. Detailed market consulting finds the perfect niche for your product. Sophisticated technical development helps you tailor your product to the Japanese market. And our complete network of service centers provides full after-sales service.
With TK, entering and competing in the Japanese market has never been easier or more rewarding.
TK began by importing first-generation mainframe computers from Burroughs Corporation (now Unisys) in 1952, and with each new wave in technology we've adapted and expanded. Today TK is turning its attention to a new set of challenges. We're improving our abilities both to anticipate new market trends and to capitalize on the latest technological developments such as advanced multimedia and Internet-related technologies. Our skilled research teams and strategically-located offices in Silicon Valley and Israel keep us in the vanguard of technological change, and through the innovative combination of cutting-edge electronics technologies, support our expansion into new business fields. Through all its activities, TK continues to pursue tomorrow's technology today.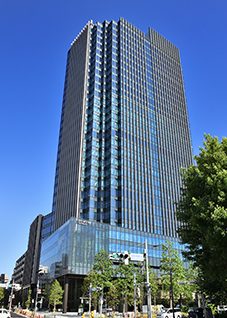 Corporate Philosophy
Creativity lies at the heart of all our business activities. This allows us to pursue our three principal goals:
Enhancing customer satisfaction
Gaining worldwide trust
Contributing to society
Consulting TK Development Service
TK is not just a trading company, but a multifaceted high-tech firm with the experience and expertise you need to help your product succeed in the Japanese market.
We start by consulting with our Japanese clients to identify their particular technological needs. Our engineers and marketing staff then search the world for the technology that most closely matches, providing the manufacturer with comprehensive technical support to enhance and add value to their product to guarantee its success in the Japanese market. And once launched, products are continually maintained and upgraded by our dedicated service staff to ensure they are always operating at peak performance.
TK is large enough to handle the most sophisticated accounts on a worldwide basis, yet small enough to provide individual, customized and personal service to each of our clients for all of their commercial needs.
Outline
Established
March 13, 1952
Capital stock

1,209 millions of yen (As of March 31, 2020)

Accounts settlement
March 31
Number of employees
216 (As of March 31, 2020)
Associated Financial organizations

Mizuho Bank, MUFG Bank, Sumitomo Mitsui Banking, Mitsubishi UFJ Trust& Banking, Resona Bank, etc.

Main Business
Exports, imports, sales, installations and maintenance services including system designs and outsourcing services of system operations, in the fields of information network systems, security systems, semiconductors and structural precision parts.
Stock code
(TSE 1st section)
2676
Board of Directors (As of June 25, 2020)
| | |
| --- | --- |
| President and Chief Executive Officer | Takanobu Ide |
| Director, Executive Officer | Yoshiaki Hirata |
| Director, Executive Officer | Masazumi Uematsu |
| Director, Executive Officer | Ichidou Tatsumi |
| Director | Tetsuo Wasano |
| Director | Michitoshi Tsuruoka |
| Corporate Auditor | Kenichi Yokoto |
| Corporate Auditor | Yasunori Ohtsuka |
| Corporate Auditor | Akira Chiba |
| Corporate Auditor | Takashi Kisaki |
| | |
| Executive Officer | Hiroki Takayama |
| Executive Officer | Yoshihisa Chiba |